Pennsylvania lease agreements bind landlords and tenants to the terms that will govern a tenancy. Lease agreements will contain the monthly rent, state which party is responsible for various utilities, and address other issues particular to a given property. The agreements are written, signed by both parties, and should be the first place landlords and tenants look when trying to settle a question about their obligations under a lease.
Rental Application
– This form is intended to be given by landlords to prospective tenants to verify their suitability for renting a property.
Contents
By Type (6)
---
Download: Adobe PDF, MS Word, Rich Text Format
---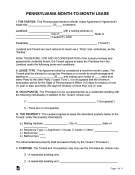 Month-to-Month Lease Agreement
Download: Adobe PDF, MS Word, Rich Text Format
---
Download: Adobe PDF, MS Word, Rich Text Format
---
Download: Adobe PDF, MS Word, Rich Text Format
---
Download: Adobe PDF, MS Word, Rich Text Format
---
Download: Adobe PDF, MS Word, Rich Text Format
---
Landlord-Tenant Laws
Statutes – Title 68, Chapter 8 (Landlord and Tenant)
Required Disclosures (1)
Lead-Based Paint Disclosure – Under federal law, lease agreements for properties with dwelling units built before 1978 must include an explanation of the dangers of lead-based paints.
Security Deposit Laws
Maximum Amount ($)
Landlords may not require a security deposit in excess of two (2) month's rent. (§250.511a)
Returning to Tenant
Landlords must return security deposits, along with interest accrued on the amount of the deposit during the tenancy, to tenants within thirty (30) days of the termination of the lease agreement. Landlords may retain a portion of a security deposit only to remedy failures of the tenant to comply with the terms of the lease agreement, including the duty to pay rent.
If the landlord desires to retain any of the security deposit, the landlord must provide a written list of all deductions along with the remaining funds. If the tenant fails to provide the landlord, in writing, with a new address on the completion of the tenancy, the landlord is freed of liability over failing to return the deposit. (§ 250.512)
When is Rent Due? (grace period)
There is no grace period or rent due date specified in state law, which means rent is due on the date named in the lease agreement.
Eviction Notice (non-payment)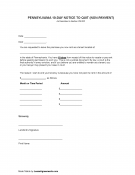 10-Day Notice to Pay or Quit – When a tenant fails to pay rent on the date it is due, a landlord may deliver a notice to the tenant stating that, if rent is not paid in full within ten (10) days of delivering the notice, the landlord may terminate the lease agreement. (§ 250.501)
Download: Adobe PDF
Maximum Fees ($)
Late Rent Penalties
Pennsylvania law does not set a maximum amount that landlords may charge in fees for providing late rent. However, in order to be enforceable, the fee should be clearly stated in the lease agreement, and it must be reasonable.
NSF Checks
As with late fees, there is no statute that specifically applies to the fee a landlord may charge a tenant for providing a check that bounces. As a result, the best practice is for such a fee to be identified in the lease agreement and reasonably related to the costs the landlord incurs by receiving a bounced check, such as the amount of an administrative fee charged by the landlord's financial institution.
Tenant's Unclaimed Property
If a landlord discovers a tenant's personal property in a dwelling unit after the termination of a lease, the landlord should remove and store the property for at least ten (10) days, and notify the tenant.
The landlord has a duty of reasonable care toward the tenant's property. If during this ten-day period the tenant responds with an intent to claim the personal property, the landlord must store the items for an additional thirty (30) days after the date of the notice. On reclaiming the property, the tenant shall be responsible for reimbursing the landlord for the cost of storing it. The parties may contractually modify these provisions by explicitly identifying alternative rules for unclaimed property in the lease agreement. (§ 250.505a)
Handbooks and Guides