A sublease agreement allows a primary tenant on a property to lease to a subtenant that is not on the primary lease for said property. A sublet relationship is only legally binding if the landlord is aware of it and consents to it. The primary tenant is essentially the landlord to the subtenant, so when it comes to the sublease matters they assume all landlord responsibilities. It's suggested for the primary tenant to make all sublease applicants complete a rental application prior to conducting interviews or signing agreements.
Landlord's Consent Form
–
When sublets are not allowed, this consent form gets the landlord's permission to enter into the sublease agreement.
Versions (6)
---
Download: Adobe PDF, MS Word, Rich Text Format
---
Download: Adobe PDF, MS Word, Rich Text Format
---
Download: Adobe PDF, MS Word, Rich Text Format
---
Download: Adobe PDF, MS Word, Rich Text Format
---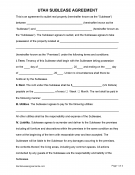 RentalLeaseAgreements.com Version
Download: Adobe PDF, MS Word, Rich Text Format
---
Download: Adobe PDF, MS Word, Rich Text Format