A sublease agreement establishes a relationship between two parties regarding a shared rental unit. One party is included in the primary lease agreement with the landlord, while the second party is not. When the primary lease agreement prohibits subleases, that tenant has to get consent from the landlord to sublease to another tenant who is not on the primary lease. The primary tenant serves as the landlord to the subtenant so they are responsible for notices and evictions, as well as all other "landlord" responsibilities for the subtenant. It's advisable for the primary tenant in a sublease agreement to collect rental applications from all potential subtenants. This will allow the tenant to run background checks on applicants.
Landlord's Consent Form
–
When subletting is prohibited, utilizing this document is necessary to get the landlord's permission for the sublease arrangement.
Versions (4)
---
Download: Adobe PDF, MS Word, Rich Text Format
---
Download: Adobe PDF, MS Word, Rich Text Format
---
Download: Adobe PDF, MS Word, Rich Text Format
---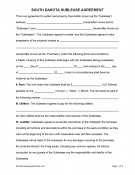 RentalLeaseAgreements.com Version
Download: Adobe PDF, MS Word, Rich Text Format