A rental application is a document that allows a landlord or property manager to screen an interested tenant before signing a lease agreement. The rental application will ask for personal information and details about their prior work experience in order for the landlord to run a credit check.
Criminal History Prohibited
 – An increasing number of jurisdictions
prohibit
using an applicant's criminal history against them. Therefore, it's best to verify with local laws.
Table of Contents
By State
By Type (5)
---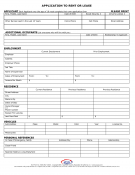 Apartment Owner's Association (AOA)
Download: Adobe PDF
---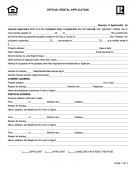 Association of Realtors
Download: Adobe PDF
---
Download: Adobe PDF
---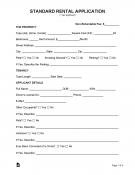 Standard Rental Application (eForms)
Download: Adobe PDF, MS Word, Rich Text Format
---
Download: Adobe PDF
---
Top 11 Tenant Screening Websites
| | | | |
| --- | --- | --- | --- |
| Service | Basic | Premium | Notes |
| American Apartment Owners Assoc. | $19.95 and includes eviction and criminal search (state-specific) and previous address tenant history. | $49.95 and includes Basic plus credit report, credit score, telecheck verification, criminal and eviction search (nationwide), sex offender registry, terrorist search, federal search, LeaseGuarantee Analyzer, Tenant Pay Option, and SSN Fraud. | Offer monthly subscriptions to 150+ legal forms and to newsletters. |
| Avail.co | $30 and includes rental history, income verification, credit score, adverse items, and credit history. | $55 and includes Basic plus nationwide criminal check, terror list check, sex offender check, and eviction searches. | Offers other services such as property management software for $5/unit per month. |
| Cozy.co | $24.99 and includes background reports. | $39.99 and includes Basic plus credit reports. | Offers the most affordable rent payment solution with free ACH and 2.75% credit card fees. |
| Experian Connect | $14.95 and only includes a credit report. | | |
| E-Renter | $19.95 and includes identity verification and background check. | $34.95 and includes Basic plus credit check, name history, address history, ad Rent Check Advisor. | |
| MyRental | $24.99 and includes eviction history, previous address history, multi-state criminal, multi-state sex offender, and terrorist check. | $34.99 and includes Basic plus credit report, SafeRent score, average score by geography, and landlord acceptance rate. | |
| RentPrep | $18.95 and includes SSN verification, nationwide evictions, bankruptcies, and judgments/liens. | $38 and includes Basic plus full credit report, ResidentScore, and a rental background check. | |
| RealPage | Must call for a quote and includes AI-enabled predictive model on a tenant. | | |
| TenantCloud | $25, and includes a national criminal search, instant state data, national sex offender search, and OFAC/most wanted searches. | $35 and includes Basic plus SSN verification, bankruptcies search, full credit report with resident score, and national eviction search (credit check is an additional $30). | Offers monthly plans to help manage units such as template creation, auto-pay, e-signature, and file storage. |
| TransUnion (mysmartmove) | $25 and includes credit-based ResidentScore and a national criminal background report. | $40 and includes Basic plus full credit report, national eviction report, and income insights. | One of the longest-running tenant background check services. |
| Zillow | $29 and includes credit reports and background reports. | | Also provides property management software to list units for rent and to accept monthly payments online. |
How to Screen a Tenant (3 steps)
Step 1 – Accept a Rental Application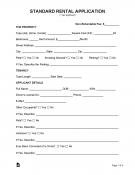 Standard Rental Application (eForms)
Download: Adobe PDF, MS Word, Rich Text Format
The landlord should issue a rental application during the showing with the tenant. The tenant should complete and be required to pay a non-refundable fee to run their credit and background. Some areas limit this fee, such as New York City it cannot be more than the cost to perform the consumer reports.
It's best to charge the tenant the cost of the consumer report plus any administration fees. This usually puts an application fee between $25 to $50. Depending on the market, the fee can be higher.
Step 2 – Run the Tenant's Credit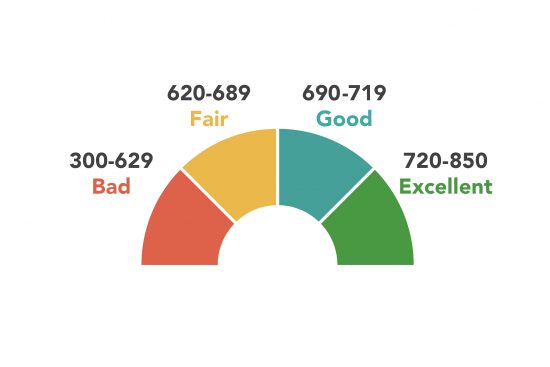 Use one of the eleven (11) background check services and run reports on the individual. It's best to find the following credentials of the tenant:
Credit Score

: Should not be less than 620 (national average credit score 711 (October 2020)).

Net Income to Rent Ratio

: 2.5x net income (no more than 40%).

Bankruptcies

: Check the report if any bankruptcies in the last seven (7) years.

Eviction History

: If the tenant has been evicted it will appear in a national public database search. If this has occurred in the last seven (7) years it may lead to instant rejection.

Past Tax Returns

: To prove their income the best resource is the past tax returns of the individual. Obtain the last 1 or 2 years.

Last 2 Pay Stubs

: Get a receipt of the tenant's most recent pay stubs. This verifies the tenant's income.

Sex Offender Search

: The State and National Database may be used for free by the public. Most background search websites offer this for an added fee.

Terrorist Search

: In the chance a tenant is listed as a wanted or convicted terrorist.

SSN Verification

: Verifies the person's social security number (SSN).
Step 3 – Approve or Reject the Tenant
After reviewing the tenant's information, the landlord will be given the task of approving or denying the tenant. If the tenant is accepted, a lease agreement with payment instructions will follow (e.g. 1st month's rent, security deposit, etc.). If rejected, the tenant will be given an adverse action letter stating the reason for rejection and where the tenant can obtain a copy of their credit report (15 U.S. Code § 1681b).
---
Download: Adobe PDF, MS Word, Rich Text Format
---
Download: Adobe PDF, MS Word, Rich Text Format
---
Rental Application Laws (Maximum Fees)
| | | |
| --- | --- | --- |
| State | Maximum Application Fee ($) | Statute |
|  Alabama | No maximum | No statute |
|  Alaska | No maximum | Landlord-Tenant Handbook – Page 5 |
|  Arizona | No maximum | ARS 33-1321 |
|  Arkansas | No maximum | No statute |
|  California | $53.00 | Cal. Civ. Code §1950.6 |
|  Colorado | No maximum | Rental Application Fairness Act |
|  Connecticut | No maximum | No statute |
|  Delaware | $50.00 or 10% of monthly rent | § 5514(d) |
|  Florida | No maximum | No statute |
|  Georgia | No maximum | No statute |
|  Hawaii | No maximum | No statute |
|  Idaho | No maximum | No statute |
|  Illinois | No maximum | No statute |
|  Indiana | No maximum | No statute |
|  Iowa | No maximum | No statute |
|  Kansas | No maximum | No statute |
|  Kentucky | No maximum | No statute |
|  Louisiana | No maximum | No statute |
|  Maine | No maximum | No statute |
|  Maryland | No maximum | No statute |
|  Massachusetts | Rental application fees are prohibited. | MA Gen L ch 186 §15b |
|  Michigan | No maximum | MI Comp L §554.601 |
|  Minnesota | No maximum | MN Stat §504B.173 |
|  Mississippi | No maximum | No statute |
|  Missouri | No maximum | No statute |
|  Montana | No maximum | No statute |
|  Nebraska | No maximum | No statute |
|  Nevada | No maximum | No statute |
|  New Hampshire | No maximum | No statute |
|  New Jersey | No maximum | No statute |
|  New Mexico | No maximum | No statute |
|  New York | $20.00 | N.Y. Real Prop. Law §238-A-1(b) |
|  North Carolina | No maximum | No statute |
|  North Dakota | No maximum | No statute |
|  Ohio | No maximum | No statute |
|  Oklahoma | No maximum | No statute |
|  Oregon | No maximum | ORS 90.295 |
|  Pennsylvania | No maximum | No statute |
|  Rhode Island | No maximum | No statute |
|  South Carolina | No maximum | No statute |
|  South Dakota | No maximum | No statute |
|  Tennessee | No maximum | No statute |
|  Texas | No maximum | No statute |
|  Utah | No maximum | No statute |
|  Vermont | Rental application fees are prohibited. | 9 V.S.A. §4456a |
|  Virginia | $50.00 | VA Code § 55-248.4 |
|  Washington | No more than the exact amount spent on screening procedures. | RCW 59.18.257 |
| Washington D.C. | No maximum | § 42-3505.10 |
| West Virginia | No maximum | No statute |
|  Wisconsin | $25.00 | WI Stat § 704.085 |
|  Wyoming | No maximum | No statute |
Related Forms (2)
---
Download: Adobe PDF, MS Word, Rich Text Format
---
Download: Adobe PDF, MS Word, Rich Text Format
---