Ohio lease agreements are contracts between landlords and tenants that govern the lease of a property. They will typically contain key terms like the monthly rent, identify which party is responsible for utilities, and explain policies specific to a property, such as those on pets or smoking. Both the landlord and the tenant should keep a copy of the agreement, and use it as the first resource to determine their obligations under the lease.
Rental Application
– This form should be given to prospective tenants to determine whether they are a good fit for a property.
Contents
By Type (6)
---
Download: Adobe PDF, MS Word, Rich Text Format
---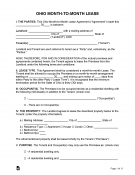 Month-to-Month Lease Agreement
Download: Adobe PDF, MS Word, Rich Text Format
---
Download: Adobe PDF, MS Word, Rich Text Format
---
Download: Adobe PDF, MS Word, Rich Text Format
---
Download: Adobe PDF, MS Word, Rich Text Format
---
Download: Adobe PDF, MS Word, Rich Text Format
---
Landlord-Tenant Laws
Statutes – Chapter 5321 (Landlords and Tenants)
Required Disclosures (1)
Lead-Based Paint Disclosure – Under federal law, a landlord leasing a property with a dwelling unit built before 1978 must disclose the dangers of lead-based paints to the tenant.
Security Deposit Laws
Maximum Amount ($)
There is no statutory maximum on security deposits in Ohio.
Returning to Tenant
If a landlord seeks a security deposit greater than $50 or one (1) month's rent, the landlord must keep the security deposit in an interest-bearing account and pay, to tenants who have spent more than six months on a property, the amount accrued in annual payments.
When the lease agreement concludes, the landlord may retain a portion of the security deposit to cover owed rent or damages resulting from a breach of the rental agreement. Any amount retained must be explained in a written itemization provided to the tenant.
The itemization and remainder of the security deposit, if any, must be provided to the tenant within thirty (30) days of the termination of the lease agreement. It is the tenant's responsibility to provide the landlord with a forwarding address for return of the security deposit. (§5321.16)
When is Rent Due? (grace period)
Rent is due at the time and place specified in the lease agreement, with no mandated date or grace period in the statute.
Eviction Notice (non-payment)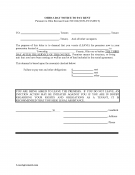 3-Day Notice to Pay or Quit – If a tenant fails to pay rent on the date on which it is due, the landlord may leave a notice with the tenant stating that if all owed rent is not paid within three (3) days, the landlord may initiate eviction proceedings. The landlord may deliver this notice in person, by certified mail, or by leaving it on the premises. (§1923.02, §1923.04)
Download: Adobe PDF
Maximum Fees ($)
Late Rent Penalties
Ohio law is silent on whether a landlord may charge penalties for late rent. However, while one-time fees may be permitted, exorbitant penalties likely will not. If a landlord wishes to charge a late fee for rent checks, best practice is to clearly state the fee in the lease agreement, and for the fee to be reasonably related to the cost imposed on the landlord by receiving rent late.
NSF Checks
Ohio statutes do not explain what fees, if any, a landlord may charge a tenant for providing a rent check with insufficient funds. However, other portions of Ohio's civil code allow a landlord to recover a fee of $50, and possibly more, if the person who receives a bad check notifies the writer of the check in writing and does not receive full payment within thirty (30) days. (§2307.61)
Tenant's Unclaimed Property
Ohio statutes do not offer specific guidance on handling personal property left behind by tenants, other than to limit when landlords may use a presumption of "abandonment" in order to seize such property.
Best practice for landlords who encounter personal property in a dwelling unit following the termination of a lease is generally to take note of what's been found, store the property somewhere secure and dry, and notify the tenant. Landlords can usually charge the tenant for the cost of storage and, if the tenant fails to respond after a period, sell the property and use the proceeds to settle debts owed by the tenant.
Handbooks and Guides