A New Hampshire sublease agreement allows a third-party tenant to rent a space in a rental unit that has a separate primary lease agreement. The third-party tenant enters into their agreement with the primary tenant or tenants, not the landlord of the property. This agreement is only binding if the landlord on the primary lease agreement has given their permission. In a sublease, the secondary tenant is liable to the primary tenant. The primary tenant is responsible for all disciplinary action against the secondary tenant if the sublease agreement is violated in any way. It's suggested that all potential secondary tenants be required to submit rental applications. This way the primary tenant can collect important information that will allow them to run background checks on all applicants.
Landlord's Consent Form
–
Always have the landlord's consent before arranging a subletting agreement with a third-party tenant.
Ver
sions (6)
---
Download: Adobe PDF, MS Word, Rich Text Format
---
Download: Adobe PDF, MS Word, Rich Text Format
---
Download: Adobe PDF, MS Word, Rich Text Format
---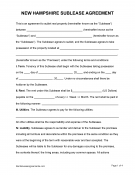 RentalLeaseAgreements.com Version
Download: Adobe PDF, MS Word, Rich Text Format
---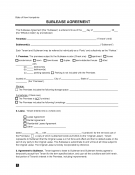 LegalTemplates.net Version
Download: Adobe PDF, MS Word, Rich Text Format
---
Download: Adobe PDF, MS Word, Rich Text Format