A Michigan sublease agreement authorizes a tenant of a rental property to sublet a space in their unit to a third-party tenant. A subletting arrangement almost always needs the permission of the landlord. The secondary tenant in a sublease is not liable to the landlord of the property. They are liable to the main tenant. Potential secondary tenants need to provide rental applications with all of the necessary information for the main tenant to conduct background checks.
Landlord's Consent Form
–
Use this form when a primary lease prohibits subletting. It will establish the landlord's consent to a subletting arrangement.
Versions (6)
---
Download: Adobe PDF, MS Word, Rich Text Format
---
Download: Adobe PDF, MS Word, Rich Text Format
---
Download: Adobe PDF, MS Word, Rich Text Format
---
Download: Adobe PDF, MS Word, Rich Text Format
---
Download: Adobe PDF, MS Word, Rich Text Format
---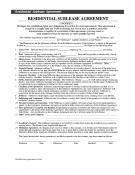 RentalLeaseAgreements.com Version
Download: Adobe PDF, MS Word, Rich Text Format