A Maryland sublease agreement establishes a rental relationship between a tenant in a rental property and a third-party tenant not listed in the primary lease agreement. The landlord's permission is almost always necessary for this kind of tenancy. The subtenant in a sublease is not liable to the landlord of the property. They are liable to the primary tenant. All potential subtenants should complete a rental application so the primary tenant can check their background.
Landlord's Consent Form
–
Use this form to confirm a landlord approves of a subletting agreement, particularly when the primary lease forbids subletting.
Versions (6)
---
Download: Adobe PDF, MS Word, Rich Text Format
---
Download: Adobe PDF, MS Word, Rich Text Format
---
Download: Adobe PDF, MS Word, Rich Text Format
---
Download: Adobe PDF, MS Word, Rich Text Format
---
Download: Adobe PDF, MS Word, Rich Text Format
---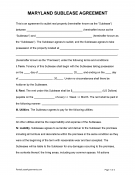 RentalLeaseAgreements.com Version
Download: Adobe PDF, MS Word, Rich Text Format