Colorado lease agreements are binding contracts between a landlord and tenant to establish a tenancy. This written agreement will lay out rent, responsibilities for maintenance, and other particulars. Lease agreements are not required in every jurisdiction, but they are a good way to prevent disputes by making both parties aware of what is expected.
Rental Application
– This other document, usually collected before a lease agreement is signed, contains information about a prospective tenant to help a landlord decide whether or not to form a lease agreement.
Contents
By Type (6)
---
Download: Adobe PDF, MS Word, Rich Text Format
---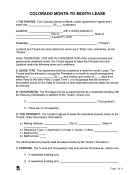 Month-to-Month Lease Agreement
Download: Adobe PDF, MS Word, Rich Text Format
---
Download: Adobe PDF, MS Word, Rich Text Format
---
Download: Adobe PDF, MS Word, Rich Text Format
---
Download: Adobe PDF, MS Word, Rich Text Format
---
Download: Adobe PDF, MS Word, Rich Text Format
---
Landlord-Tenant Laws
Statutes – Title 38, Article 12 (Tenants and Landlords)
Required Disclosures (1)
Lead-Based Paint Disclosure – Required to be attached and completed to a lease where the premises was constructed prior to January 1, 1978.
Security Deposit Laws
Maximum Amount ($)
Colorado does not statutorily set a maximum security deposit.
Returning to Tenant
Unless otherwise specified in the rental agreement, the landlord must return the security deposit to the tenant within thirty (30) days of the end of the lease or the tenant leaving the property, whichever comes second. A written lease agreement may allow for a longer amount of time to return the security deposit, but it may not exceed sixty (60) days, even if the landlord and tenant agree to a longer duration. The landlord may use a portion of the security deposit to cover the cost of fixing issues in a property that emerged during a tenant's time there — other than normal wear and tear — but if some is retained, the landlord must provide a written itemization of all fixes. Otherwise, the landlord is deemed to have forfeited any claim to any of the security deposit. If disputed, the landlord bears the burden of showing that retaining a security deposit was not wrongful. (§ 38-12-103)
When is Rent Due? (grace period)
Colorado statutes do not mention a rent due date and provide no mandated grace period, which means that both may be determined by the lease agreement.
Eviction Notice (non-payment)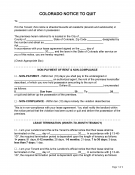 3-Day Notice to Pay or Quit – The landlord has the right to give a three (3) day notice to quit if rent following a tenant's failure to pay. If not paid-in-full, the landlord has the right to terminate the lease and begin a forcible entry and detainer action (§13-40-104).
Download: Adobe PDF
Maximum Fees ($)
Late Rent Penalties
Colorado law does not set a maximum amount for late fees. However, best practice is to name the late fee amount in the rental agreement if one is being used. Amounts named must be reasonable to be enforceable.
NSF Checks
A landlord may charge up to $20 in the event that a tenant pays rent with a check that carries insufficient funds (§13-21-109).
Tenant's Unclaimed Property
If the tenant leaves personal possessions on the property after being evicted, the law does not specify what obligations a landlord has toward a tenant's property that has been left behind. If a tenant leaves voluntarily, whether through the end of a lease or without notice, a landlord must provide the tenant with written notice of the property left behind within fifteen (15) days. If the landlord does not have reason to think the property has been abandoned, the landlord must store the tenant's property. The law does not specify how long the landlord must store it, but they cannot get rid of the property without the tenant's consent before thirty (30) days have passed since the tenant left. If the landlord decides to sell the property to cover a debt owed by the tenant, he or she must notify the tenant of the intent to sell the property and then wait at least fifteen (15) additional days before doing so (§ 13-40-122).
Handbooks and Guides