An Arkansas month-to-month rental agreement, also known as a "tenancy at will," is a lease that renews every month if the tenant holding it makes an agreed-upon payment. This differs from a typical lease agreement, which identifies an end date and contracts a tenancy until then. Either landlord or tenant is able to amend or terminate a month-to-month rental agreement with thirty (30) days' notice.
Minimum Termination Period
A tenant or landlord is required to provide at least thirty (30) days' written notice before terminating the agreement. If the tenant remains in the property after termination of the agreement, the landlord has grounds for a lawsuit.
Versions (4)
---
Download: Adobe PDF, MS Word, Rich Text Format
---
FormSwift V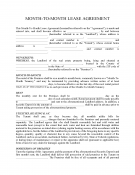 ersion
Download: Adobe PDF, MS Word, Rich Text Format
---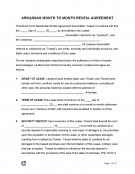 OpenDocs Version
Download: Adobe PDF, MS Word, Rich Text Format
---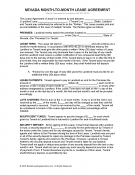 RentalLeaseAgreements Version
Download: Adobe PDF, MS Word, Rich Text Format
---