An Alaska rent-to-own agreement is a standard lease contract with additional language that allows the tenant to purchase the property in accordance with agreed-upon terms. The main portion of the agreement is a standard lease that outlines the terms and conditions of the rent payment, security deposit, and responsibilities of the tenant. The attached addendum will outline the tenant's option to purchase the property, which should include a pre-negotiated price.
Seller Disclosures
If the buyer decides to buy the property the following disclosures are required to be completed by the landlord.
---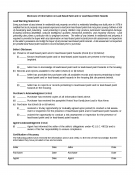 Lead-Based Paint Disclosure – Required to be completed if the property was built prior to January 1, 1978.
Download: Adobe PDF
---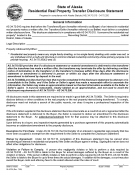 Real Estate Transfer Disclosure Statement (Form 08-4229) – Under AS 34.70.010, this form must be completed by the seller and given to the buyer prior to a finalized purchase agreement.
Download: Adobe PDF