An Alaska month-to-month rental agreement is a lease that continues with no end date and can only be terminated with thirty (30) days' notice by either the landlord or tenant. The agreement may also be amended with 30 days' notice if the landlord would like to increase rent or make any other changes to the lease. A tenant under a month-to-month lease does not receive special treatment under State law and must follow the same eviction process as a standard lease. Therefore, it's recommended the landlord use a rental application to verify the tenant's income before executing an agreement.
Minimum Termination Period
Thirty (30) days is required to terminate the lease for either the landlord or tenant.
Versions (5)
---
Download: Adobe PDF, MS Word, Rich Text Format
---
Download: Adobe PDF, MS Word, Rich Text Format
---
Download: Adobe PDF, MS Word, Rich Text Format
---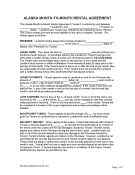 RentalLeaseAgreements.com Version
Download: Adobe PDF, MS Word, Rich Text Format
---
Download: Adobe PDF, MS Word, Rich Text Format
---