A Wyoming rent-to-own lease agreement is a standard lease agreement that includes an option to purchase the property as well. It contains components that are normally in a lease agreement, including but not limited to the monthly rent, security and pet deposits, and tenant responsibilities. Next comes the option to purchase the property explaining the purchase price, arrangements, and requirements negotiated by the tenant and landlord. The tenant will usually pay the monthly rent until they alert the landlord that they would like to purchase the property. Depending on what was negotiated, the rent paid can apply to the purchase price of the property. The landlord is required to issue certain disclosures per Wyoming law.
Seller Disclosures
Include if the tenant decides to purchase the property.
---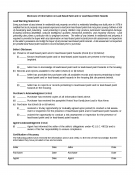 Lead-Based Paint Disclosure – Applies to properties built before 1978.
Download: Adobe PDF
---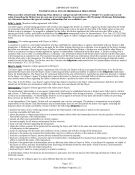 Real Estate Agent Brokerage Disclosure (§ 33-28-303(c)) – Real estate agents are required to inform prospective buyers of all material defects that are known to the agent.
Download: Adobe PDF
---