A Virginia month-to-month rental agreement is a short-term agreement between a landlord and a tenant. Also known as a "tenancy-at-will," the agreement renews each month when the rent is paid. The agreement can be terminated no matter how little time has passed, per a written agreement between a landlord and tenant. State law requires 30 days of notice before termination of a tenancy-at-will.
Minimum Termination Period
Either party involved in the agreement can serve written notice of intent to terminate at least 30 days prior to the next date rent is due, unless the agreement states otherwise. The landlord or tenant may also agree in writing to earlier termination if they so choose.
Versions (4)
---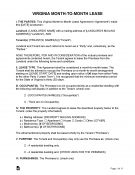 eForms Version
Download: Adobe PDF, MS Word, Rich Text Format
---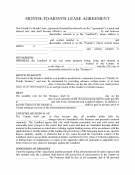 FormSwift Version
Download: Adobe PDF, MS Word, Rich Text Format
---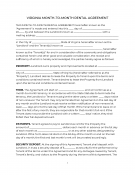 iPropertyManagement Version
Download: Adobe PDF, MS Word, Rich Text Format
---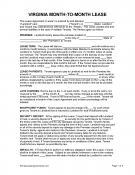 RentalLeaseAgreements Version
Download: Adobe PDF, MS Word, Rich Text Format