Texas lease agreements enable landlords and tenants to set the terms of a lease of property in exchange for monthly rent. Terms typically include the amount of the rent, which party is responsible for utilities, and policies particular to the property, such as whether pets are allowed. Both the landlord and the tenant should keep a copy of the lease agreement, and refer to it if unsure about their obligations under the lease.
Rental Application
– This form should be provided to prospective tenants, to assess their credit history and past renting references.
Contents
By Type (6)
---
Download: Adobe PDF, MS Word, Rich Text Format
---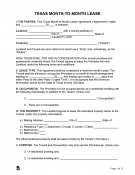 Month-to-Month Lease Agreement
Download: Adobe PDF, MS Word, Rich Text Format
---
Download: Adobe PDF, MS Word, Rich Text Format
---
Download: Adobe PDF, MS Word, Rich Text Format
---
Download: Adobe PDF, MS Word, Rich Text Format
---
Download: Adobe PDF, MS Word, Rich Text Format
---
Landlord-Tenant Laws
Statutes – Property Code, Chapters 91 (Provisions Generally Applicable to Landlords and Tenants), 92 (Residential Tenancies)
Required Disclosures (5)
Agent/Owner Identification – The lease agreement must identify and provide a means of contacting the landlord and the landlord's agents who are capable of receiving tenant concerns and coming onto the property to make repairs (§ 92.201).
Lead-Based Paint Disclosure – Federal law requires that, for leases of all properties with dwelling units built before 1978, landlords provide information about the hazards of lead-based paints.
Parking Rules Addendum – Landlords must include information about parking policies in the lease agreement, which should be titled 'PARKING RULES.' If these rules are attached to the lease as an addendum, the tenant must sign the form (§ 92.0131).
Special Conditions to Cancel Agreement – Landlords must disclose to tenants the circumstances under which a tenant may void a lease agreement, including being called to military service and being a victim of domestic violence (§ 92.016).
Tenant's Remedies – Landlords are required to clarify what remedies a tenant may pursue if a repair job is not completed on the property within a reasonable time frame, usually seven (7) days. This information must appear in the lease agreement, either bold or underlined font (§ 92.056).
Security Deposit Laws
Maximum Amount ($)
Texas state law does not limit how much a landlord may charge for a security deposit. However, local ordinances in the city or county where the property is located may impose limits, so tenants and landlords should consult the municipal code or county ordinances.
Returning to Tenant
Landlords must return security deposits to tenants within thirty (30) days of the tenant surrendering the premises (§ 92.103). The landlord's obligation does not begin until the tenant provides the landlord with a forwarding address, but the tenant does not forfeit his or her right to the deposit by failing to provide a forwarding address (§92.107).
A landlord may retain a portion of the security deposit to account for costs for which the tenant is liable as a result of breaches or violations of the lease agreement. The tenant is not liable for normal wear and tear. If the landlord retains a portion of the security deposit, the landlord must provide a written itemization of all deductions, also within thirty (30) days, unless the landlord and tenant agree that the tenant owes rent (§92.104).
When is Rent Due? (grace period)
Texas law does not specify when rent is due, meaning that tenants and landlords may set a date in the lease agreement. There is no mention of a grace period, but see the section below on late rent penalties.
Eviction Notice (non-payment)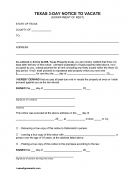 3-Day Notice to Pay or Quit – If a tenant fails to pay rent on the day it is due, the landlord has the right to deliver a three-day notice to quit if rent is not paid on the due date. If the tenant fails to pay all rent owed within three days of delivering the notice, the landlord may terminate the lease and initiate eviction proceedings (§ 24.005).
Download: Adobe PDF
Maximum Fees ($)
Late Rent Penalties
Landlords cannot charge a late rent fee unless it is specifically named in the lease. Any late fee must be reasonable. Under no circumstances may a landlord collect a late fee prior to two full days after the date on which the rent is due (§92.019).
NSF Checks
Landlords may charge a fee of up to $30 for providing a check with insufficient funds behind it, so long as this fee is named in the rental agreement (§ 3.506).
Tenant's Unclaimed Property
If a landlord encounters personal property of a tenant following an eviction, the law enforcement officer carrying out the eviction will take custody of the property (§ 24.0061).
Texas statutes do not specify what a landlord must do in cases of unclaimed property following the termination of a lease or abandonment, but best practice is generally to store the property in a dry, secure place, and to provide the tenant with notice that the property will be stored for some amount of time before being disposed of. If the tenant wishes to reclaim the property, the landlord may generally seek reimbursement for storage costs.
Handbooks and Guides