A New York rent-to-own lease agreement is a contract whereby a landlord and tenant set forth a rent-based tenancy that includes an option for the tenant to purchase the property during the leasing period. Generally, the leasing document will contain all information pertaining to rental terms as well as the eventual purchase conditions, such as the agreed-upon price and closing dates. A rent-to-own, also known as a "lease-to-own," can benefit each party in various ways if they mutually wish to enter a rental before transferring ownership officially. Typically, and though the landlord must first consent, full rental payments or a portion of the total are applied as a credit towards the down payment of the residence. The two parties should draft their agreement with both the tenancy and purchase in mind, thus allowing for predetermined negotiations and a swifter deal.
Seller Disclosures
The following disclosure forms must be filled out by the seller if and when applicable. After, copies shall be given to prospective buyers in accordance with state and federal laws.
---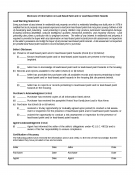 Lead-Based Paint Disclosure – If the dwelling was built before 1978, the seller must give prospective buyers a disclosure statement that contains information on lead-based paint used on the premises.
Download: Adobe PDF
---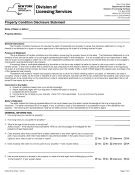 Seller's Property Disclosure Statement (§ 462) – Sellers of residential property must complete this disclosure form and provide a copy to potential buyers. According to New York law, failure from the seller to issue this disclosure at the time of signing will result in a $500 fee owed to the buyer at closing.
Download: Adobe PDF