Nevada lease agreements allow landlords and tenants to set the terms of a lease of property. The agreement will identify the monthly rent, which party is responsible for utilities, and policies that vary from property to property, such as whether smoking is permitted. Both parties should sign the lease agreement and keep a copy, referring to it in the event of disagreements about their obligations.
Rental Application
– This form can be used to gather information about a tenant's credit history and past renting experiences.
Contents
By Type (6)
---
Download: Adobe PDF, MS Word, Rich Text Format
---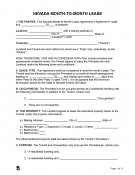 Month-to-Month Lease Agreement
Download: Adobe PDF, MS Word, Rich Text Format
---
Download: Adobe PDF, MS Word, Rich Text Format
---
Download: Adobe PDF, MS Word, Rich Text Format
---
Download: Adobe PDF, MS Word, Rich Text Format
---
Download: Adobe PDF, MS Word, Rich Text Format
---
Landlord-Tenant Laws
Statutes – Nevada Revised Statutes Chapter 118 (Landlord and Tenant: Dwellings)
Required Disclosures (6)
Fees – If a landlord chooses to impose a fee that is not refundable, this fee must be explicitly identified in the lease agreement. (§118A.200)
Foreclosure – If the property a tenant is considering is the subject of foreclosure proceedings, the landlord must disclose this to the tenant. (§ 118A.275)
Lead-Based Paint Disclosure – Landlords of properties with dwelling units built before 1978 must, under federal law, disclose to tenants the risk associated with living in a home with lead-based paint.
Move-in Checklist  – Landlords must affirmatively provide tenants with the opportunity to note defects with the property at the time of moving in. (§ 118A.200(k))
Nuisance/Violation  – Landlords must inform tenants about how to report nuisances or violations of their quiet enjoyment. (§ 118A.200)
USA Flag (Right to Raise) – Landlord to inform tenants of their rights to fly a flag on the premises. (§ 118A.325)
Security Deposit Laws
Maximum Amount ($)
Landlords may not demand a security deposit that, including last month's rent, exceeds three (3) month's rent. (§118A.242)
Returning to Tenant
Landlords must return security deposits to tenants within thirty (30) days of the termination of the lease, by either party and for any reason. Landlords may retain a portion of the security deposit only to recover owed rent, repair damage to the property other than that caused by wear-and-tear, or pay for reasonable costs of cleaning the property. If the landlord chooses to retain a portion of the security deposit, the landlord must include a written itemization of all costs, along with any of the deposit remaining, also within thirty (30) days. The landlord may deliver the deposit and/or itemization to the tenant personally, mail it to the tenant's new address or, if unknown, to the tenant's last known address. If the tenant disputes something in the deductions from the security deposit, the tenant must object in writing within thirty (30) days of receiving the itemization. (§118A.242)
When is Rent Due? (grace period)
There is no statutorily mandated rent due date or grace period, meaning rent is due at the time and place named in the lease agreement.
Eviction Notice (non-payment)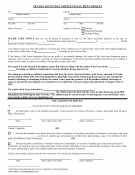 7-Day Notice to Pay or Quit – If a tenant fails to pay rent on the date it is due, the landlord has the right to terminate the lease. In order to do so, the landlord or the landlord's agent must provide a notice to the tenant stating that, if rent is not paid in full within seven (7) days, the landlord may initiate eviction proceedings. (§40.253)
Download: Adobe PDF
Maximum Fees ($)
Late Rent Penalties
Landlords are permitted to charge late fees. However, the fee must be reasonable, and in no case may exceed five percent (5%) of the monthly rent. Landlords are also not permitted to increase late fees based upon having previously charged a late fee. (§118A.210)
NSF Checks
Nevada law enforcement recommends that, after receiving a bounced check, the payee send written notice to the writer of the check demanding full payment within fifteen (15) days. The payee may also demand reasonable reimbursement for the cost of receiving an NSF check, up to $25.
Tenant's Unclaimed Property
On encountering a tenant's personal property in a dwelling unit after the termination of a lease, the landlord should inventory and store the property in a secure location for at least thirty (30) days. The landlord is held to a standard of reasonable care to the tenant in storing the property. The landlord should notify the tenant in writing that, if the property is not claimed by the tenant or an authorized representative within thirty (30) days, the property may be destroyed, and the landlord may seek reimbursement for expenses associated with storing the property when and if the property is claimed. If the tenant does not claim the property and the landlord intends to sell or dispose of it, the landlord may do if at least fourteen (14) days have passed since the landlord informed the tenant of a confirmed plan to sell or dispose of the property, a time period that may or may not include the original thirty days following the termination of the lease. (§ 118A. 460)
Handbooks and Guides