A New Hampshire rent-to-own lease agreement allows a tenant to rent a property from the landlord while also giving the tenant the option to later purchase the property. The agreement will usually be structured as a traditional lease, with the purchase option described in a separate section. The provisions of both the standard lease and the purchase option can be negotiated by the parties, subject to certain requirements of state law.
Seller's Disclosures
If the tenant decides to purchase the property, the landlord, as the seller, must make the following disclosures.
---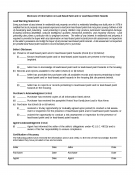 Lead-Based Paint Disclosure – This form is required only if the property contains a home erected before 1978.
Download: Adobe PDF
---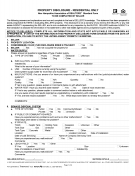 Seller's Property Disclosure Statement – Under § 477:4-d of the New Hampshire Revised Statutes, sellers must disclose certain information about a property prior to selling it. In particular, the seller must provide details about the property's water supply, sewage system, and the insulation of the dwelling unit or units.
Download: Adobe PDF
---