A North Carolina month-to-month rental agreement is a legal document that lets landlords and tenants create leases of property that can be terminated regardless of how much time has passed on the lease, so long as sufficient notice is provided. This arrangement, also known as a tenancy at will, creates flexibility for parties whose plans may change and don't want to be committed to a lease of a year or longer. The rest of the agreement can be negotiated by the parties, subject to applicable state laws.
Minimum Termination Period
A tenancy from month to month may be terminated by a notice to quit given seven (7) days or more before the end of the current term.
Versions (5)
---
Download: Adobe PDF, MS Word, Rich Text Format
---
Download: Adobe PDF, MS Word, Rich Text Format
---
Download: Adobe PDF, MS Word, Rich Text Format
---
Download: Adobe PDF, MS Word, Rich Text Format
---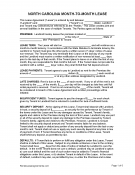 RentalLeaseAgreements.com Version
Download: Adobe PDF, MS Word, Rich Text Format
---