A Georgia month-to-month rental agreement is a legal document that permits a tenant to occupy a landlord's property on a monthly basis. Also called a tenancy at will, month-to-month rental agreements are not required to last for a set of time, but do require a specific amount of notice to end. This arrangement provides a mixture of flexibility and security that some landlords and tenants want.
Minimum Termination Period
Sixty (60) days' notice from the landlord, or thirty (30) days' notice from the tenant is necessary to terminate a tenancy at will.
Versions (4)
---
Download: Adobe PDF, MS Word, Rich Text Format
---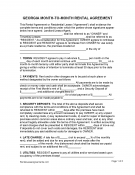 RentalLeaseAgreements.com Version
Download: Adobe PDF, MS Word, Rich Text Format
---
Download: Adobe PDF, MS Word, Rich Text Format
---
Download: Adobe PDF, MS Word, Rich Text Format
---